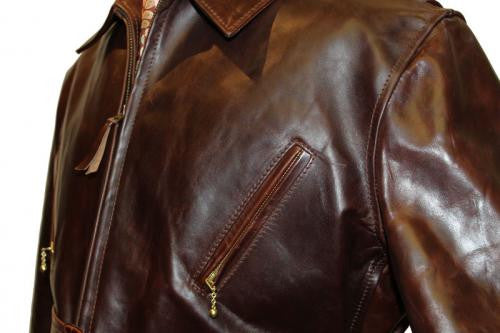 Aero Leather Clothing
Aero Northeaster
$ 1,159.99
The Northeaster is essentially a simpler version of Aero's new "Hudson"....the perfect style for a weekend in the woods--a heavy duty jacket giving total foul weather protection from the rain, snow and sleet.
Like its big brother, this jacket is built for comfort, warmth and practicality. Its got extra length to keep out the weather and storm cuffs to block wind up the sleeves.
The jacket is closed by a Talon zipper and the waist draws in with an elasticated section integrated under the leather on the side panels. For the ultimate in draft exclusion Aero has added a classic 1950s style detachable belt which draws the jacket in to repel the worst of any weather. The belt is constructed in two sections which button onto the half belt at the back.
For practicality Aero has fitted six pockets, two handwarmer pockets below two cargo pockets with stud down flaps for security. All the pockets are lined in heavy duty moleskin for strength, warmth and comfort.
Like all Aero jackets, the Northeaster can be ordered with a variety of linings, hardware finishes/styles, and thread colors. Interior pockets are also available. Click HERE for more information on ordering a custom Aero jacket!
This product page is for the payment to start the custom order process for a custom Northeaster. The payment is for the base price of the Northeaster plus the shipping for the fit jacket. You can read more about the fit jacket process our Custom Aero page! The costs for extra items are listed on the Custom Aero page.
To find out what we currently have in stock in the Aero Northeaster, contact us at sales@thurston-bros.com. You can also contact us for professional sizing for this style.
For information on exchanges, shipping, payments, etc., go to our Store Policies and Information page.