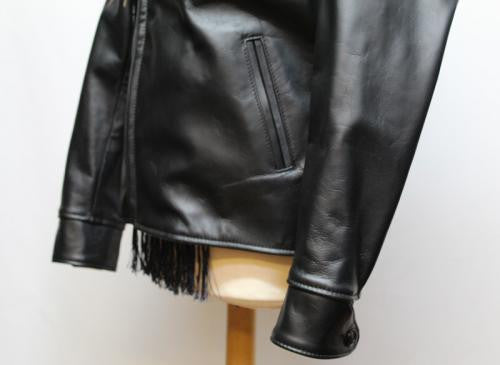 Aero Leather Clothing
Aero STF Slimfit Bootlegger
$ 1,159.99
The STF Slimfit Bootlegger has most of the classic features of the standard Bootlegger, but with Aero's slimmer silhouette of the Premier Range!
The superb Bootlegger jacket is easily mistaken for a late 20's/early 30's original all-purpose Flight Jacket. This cross between an early flight jacket and a motorcycle jacket represents a vintage styling no longer made by any other manufacturer. The front zipper is fitted at an angle giving a generous wind flap with an extra button fastening at the neck. It has three deep pockets (two handwarmer pockets and a zippered breast pocket), one-piece back, button cuffs, adjustable side cinches at the waist, a stitched on 'Cossack' style half belt at back, and interior knit storm cuffs in the sleeves.

This half belt style was built to be used in all kinds of activity in any weather, and endure the hardest of wear.

The STF Slimfit Bootlegger can be specified in a variety of leathers, including Chromexcel steerhide, Chromexcel front quarter horsehide or Italian Vicenza veg-tanned horsehide. Like all Aero jackets, the STF Slimfit Bootlegger can be ordered with a variety of linings, hardware finishes/styles, and thread colors. Interior pockets are also available. Click HERE for more information on ordering a custom Aero jacket!
This product page is for the payment to start the custom order process for a custom STF Bootlegger.  The payment is for the base price of the STF Bootlegger plus the shipping for the fit jacket.  You can read more about the fit jacket process our Custom Aero page!  The costs for extra items are listed on the Custom Aero page.
To find out what we currently have in stock in the Aero STF Slimfit Bootlegger, contact us at sales@thurston-bros.com.  You can also contact us for professional sizing for this style.
For information on exchanges, shipping, payments, etc., go to our Store Policies and Information page.