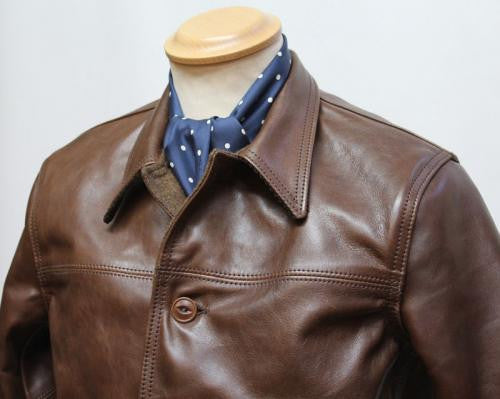 Aero Leather Clothing
Aero Premier 1920s Work Coat
$ 1,229.99
Aero's 1920s Horsehide and Melton Work Coat is part of Aero's Premier Range of Superior Limited Edition leather jackets based on the 1920s/30s pattern block.

Aero has taken one of the finest original 1920s jackets and they've duplicated it! Aero has unashamedly replicated every detail of the jacket (save the uneven gaps between the buttonholes on the original). The seams on the horsehide shell are triple stitched everywhere for superior strength, the body is fully lined in high grade English Melton (100% Wool) in Bottle Green, Navy Blue, Black or Brown. The melton body lining is fitted with a cotton drill sleeve lining for ease of wear. The back collar is typically cut from corduroy for comfort and the jacket closes using 1920s style Corozo buttons. The jacket has button side adjusters. This is one of Aero's heaviest jackets, one to cope with any weather conditions and ideal for "the worst" that can be thrown at it.

The Premier 1920s Work Coat can be customized with different colors of Melton Wool lining, different button colors/materials, and thread colors. The jacket can be custom built in a variety of leathers, including Vicenza Italian veg-tanned horsehide, Goatskin, Chromexcel Steerhide, and Chromexcel FQHH. Interior pockets are not available with this style. Click HERE for more information on ordering a custom Aero jacket!
This product page is for the payment to start the custom order process for a custom Premier Work Coat.  The payment is for the base price of the Premier Work Coat plus the shipping for the fit jacket.  You can read more about the fit jacket process our Custom Aero page!  The costs for extra items are listed on the Custom Aero page.
To find out what we currently have in stock in the Aero 1920s Work Coat, contact us at sales@thurston-bros.com. You can also contact us for professional sizing for this style.
For information on exchanges, shipping, payments, etc., go to our Store Policies and Information page.