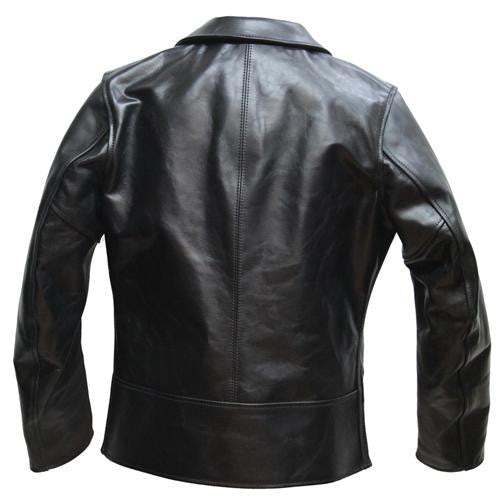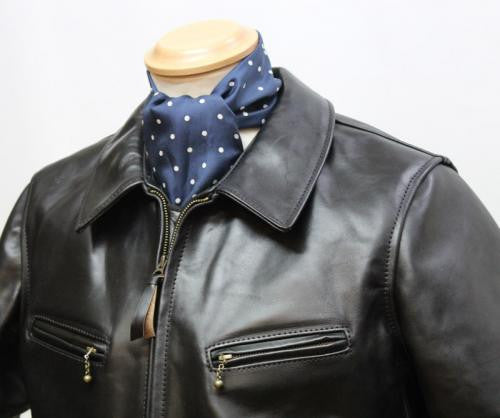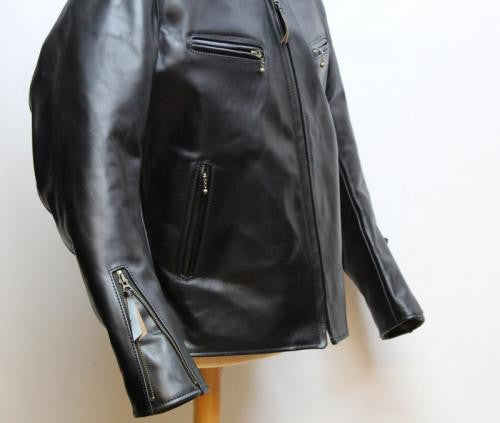 Aero Leather Clothing
Aero Seven
$ 1,199.99
The Aero Seven is based on the Board Racer fit, but is made with the Highwayman collar.  This collar modification creates a new profile for the Board Racer and gives a more casual, less "motorcycle" look!  However, the rest of the details are the same as the Board Racer--
Back in the early 20th Century, motorcycle racing was a very dangerous sport and no version was more notorious than the short-lived board track racing! Highly powered specialist machines built by the likes of Harley Davidson, Indian and Cyclone raced on circular or oval race courses. The tracks were made of wooden planks and would become oil soaked from earlier races, causing the inevitable carnage. A series of fatalities saw most, if not all, board track venues closed by the early 1930s and the daredevil riders transferred their skills and lust for speed to dirt track racing.
Oval track racers wore thick jersey shirts or fairly flimsy, tight-fitting, unlined leather racing shirts. These leather "shirts" or jackets eventually metamorphosed through the famous Buco J-100 into what we now call a "Café Racer."
Aero's Seven brings together all the essential elements of the oval track racing shirt, as if Aero had produced them back in the 1930s. The jacket is very sculptured to give a close fit with little wind resistance. The collar is curved at just the right angle to combine comfort and practicality and has an overlap at the top of the zipper for wind protection. The one piece front has the option of one or two breast pockets with zip closure and the front zipper stops short at the bottom so as not to pucker the jacket while riding. The sleeves have zip adjustment at the cuff and are very curved at the elbow--sculptured for comfort and set at the perfect angle for riding. The back has a double kidney panel and is cut to fit close to the torso. The back has a center seam that is quadruple stitched for extra strength. This back design can also be reversed, with a straight yoke at the upper back and a center seam that ends at the bottom hem.
Although most "leather shirts" of the 1930s were unlined, the Seven is fitted with a variety of linings, from lightweight cotton sateen to a lightweight wool tartan.
Like all Aero jackets, the Seven can be ordered with a variety of linings, hardware finishes/styles, and thread colors. Interior pockets are also available. Click HERE for more information on ordering a custom Aero jacket!
This product page is for the payment to start the custom order process for a custom Seven.  The payment is for the base price of the Seven plus the shipping for the fit jacket.  You can read more about the fit jacket process our Custom Aero page!  The costs for extra items are listed on the Custom Aero page.
To find out what we currently have in stock in the Aero Seven, contact us at sales@thurston-bros.com. You can also contact us for professional sizing for this style.
For information on exchanges, shipping, payments, etc., go to our Store Policies and Information page.