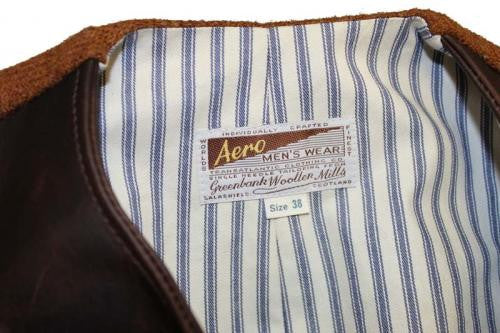 Aero Leather Clothing
Aero Shackleton
$ 649.99
Aero models their expedition waistcoat on a waistcoat worn by members of the Nimrod expedition to the South pole. The crew were led by Sir Ernest Henry Shackleton, an Anglo-Irish polar explorer who led three British expeditions to the Antarctic and was one of the principal figures of the period known as the Heroic Age of Antarctic. Aero's very fitted waistcoat is cut from Battered Steerhide, chosen for its waterproof qualities, and has a heavy wool back. The waistcoat features an adjustable center cinch belt. The waistcoat is lined in heavy cotton "ticking" and fitted with larger than usual buttons and buttonholes for ease of use while wearing gloves. The waistcoat's cut is higher at the front and has more length than a suit waistcoat. The pockets are deeper and more practical than those found in most waistcoats.
Typically, back in the day, this type of garment was worn as layering against the elements, but Aero's stylish waistcoat would be no less effective as a three season garment worn over a shirt for protection from the chill of evening.

We recommend specifying the Shackleton in either Battered Steerhide or Vicenza Horsehide to achieve the ideal fit and drape for this vest!

Like all Aero jackets, the Shackleton can be ordered with a variety of linings, hardware finishes/styles, and thread colors. Interior pockets are also available. Click HERE for more information on ordering a custom Aero jacket!
This product page is for the payment to start the custom order process for a custom Shackleton.  The payment is for the base price of the Shackleton plus the shipping for the fit jacket.  You can read more about the fit jacket process our Custom Aero page!  The costs for extra items are listed on the Custom Aero page.
To find out what we currently have in stock in the Aero Shackleton, contact us at sales@thurston-bros.com. You can also contact us for professional sizing for this style.
For information on exchanges, shipping, payments, etc., go to our Store Policies and Information page.