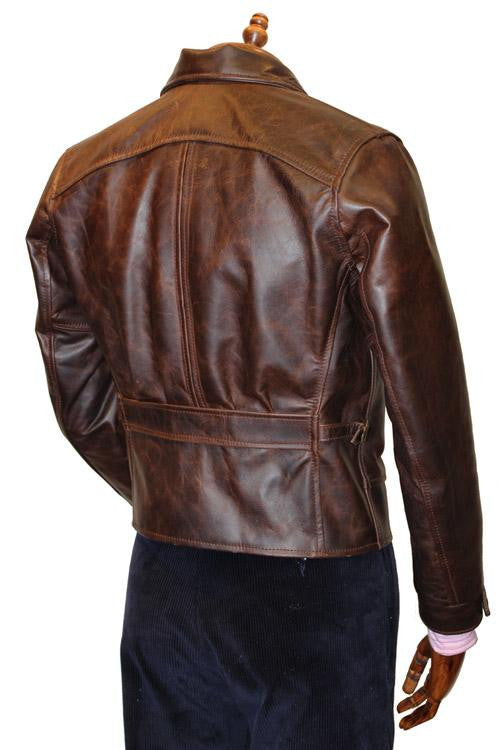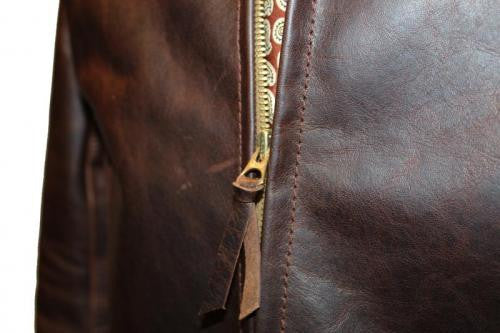 Aero Leather Clothing
Aero Speedway
$ 1,099.99
Aero has been commissioned to do many research and development projects for some very well known brands during their 30+ years of business.

Aero worked hand in hand with Levis Vintage, assisting in the development of a reproduction of a wrecked Goatskin jacket with two numbers painted on the left sleeve. The provenance that came with the original 1930s jacket, and the subsequent research done on Google, led Aero to believe that the jacket was a speedway rider's jacket. The scars and tears on the original jacket were certainly commensurate with such use.

For the Levis Limited Edition production jacket that ensued (around 1000 were made), Aero had to recreate the heavy wear of the original piece, although Aero always felt that an un-aged version would have been a much better option. As Aero did the development work and patterns for the project, Levis gave Aero permission to produce their own version.

Aero has changed nothing on the current jacket, save change the lining from the original delicate rayon to a more durable fabric, and put the Aero tag in the jacket. This is an Aero jacket after all!

Just to perfect the overall appearance, the jacket is lightly padded in the shoulders to give it a superb profile and that final touch of uniqueness.

The Speedway can be specified in a variety of leathers, including Chromexcel steerhide, Chromexcel front quarter horsehide or Italian Vicenza veg-tanned horsehide.

Like all Aero jackets, the Speedway can be ordered with a variety of linings, hardware finishes/styles, and thread colors. Interior pockets are also available. Click HERE for more information on ordering a custom Aero jacket!
This product page is for the payment to start the custom order process for a custom Speedway.  The payment is for the base price of the Speedway plus the shipping for the fit jacket.  You can read more about the fit jacket process our Custom Aero page!  The costs for extra items are listed on the Custom Aero page.
To find out what we currently have in stock in the Aero Speedway, contact us at sales@thurston-bros.com. You can also contact us for professional sizing for this style.
For information on exchanges, shipping, payments, etc., go to our Store Policies and Information page.