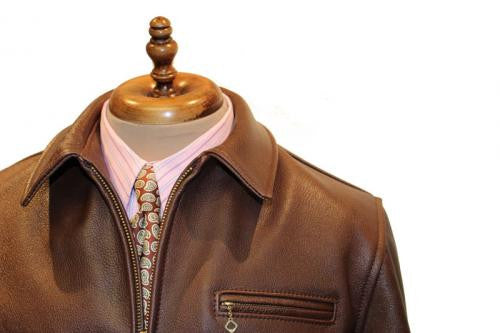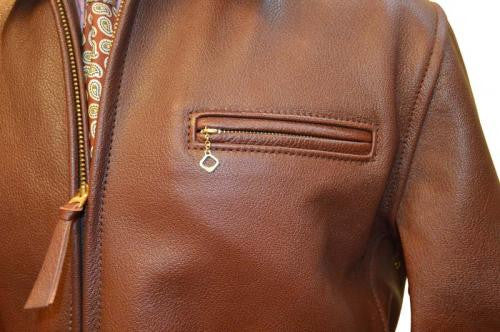 Aero Leather Clothing
Aero Sunburst
$ 1,129.99
The Sunburst is the pleasing combination of a number of jacket design elements from the 1920s and 1930s.
The "Sunburst" back itself is a throwback from the 1920s that was transformed as the Depression hit harder. Clothing manufacturers needed to conserve raw materials and leather jackets began to use smaller panels and a slimmer cut. What started out as economy gave birth to some of the most interesting and stylish jackets of the 20th Century.
This dramatic back is accompanied by a classic 1930s sloping front and less angled handwarmer pocket design (compared to those fitted to most Aero jackets), along with a straight zippered breast pocket. Aero has not used this cuff design for a very long time but, as it's typical of the cuff used on many 1930's jackets, Aero felt it was time to revise this design.
Like all Aero jackets, the Sunburst can be ordered with a variety of linings, hardware finishes/styles, and thread colors. Interior pockets are also available. Click HERE for more information on ordering a custom Aero jacket!
This product page is for the payment to start the custom order process for a custom Sunburst.  The payment is for the base price of the Sunburst plus the shipping for the fit jacket.  You can read more about the fit jacket process our Custom Aero page!  The costs for extra items are listed on the Custom Aero page.
To find out what we currently have in stock in the Aero Sunburst, contact us at sales@thurston-bros.com. You can also contact us for professional sizing for this style.
For information on exchanges, shipping, payments, etc., go to our Store Policies and Information page.